Keyliz, known as (edition styles) is a fashion content creator on social media. She shares her passion for the cottage core aesthetic and loves dressing up in princess dresses.
She considers her Instagram page a form of art where she shares how she styles outfits & creates dreamy, magical photos to inspire other people to step out of their comfort zones and wear what they want.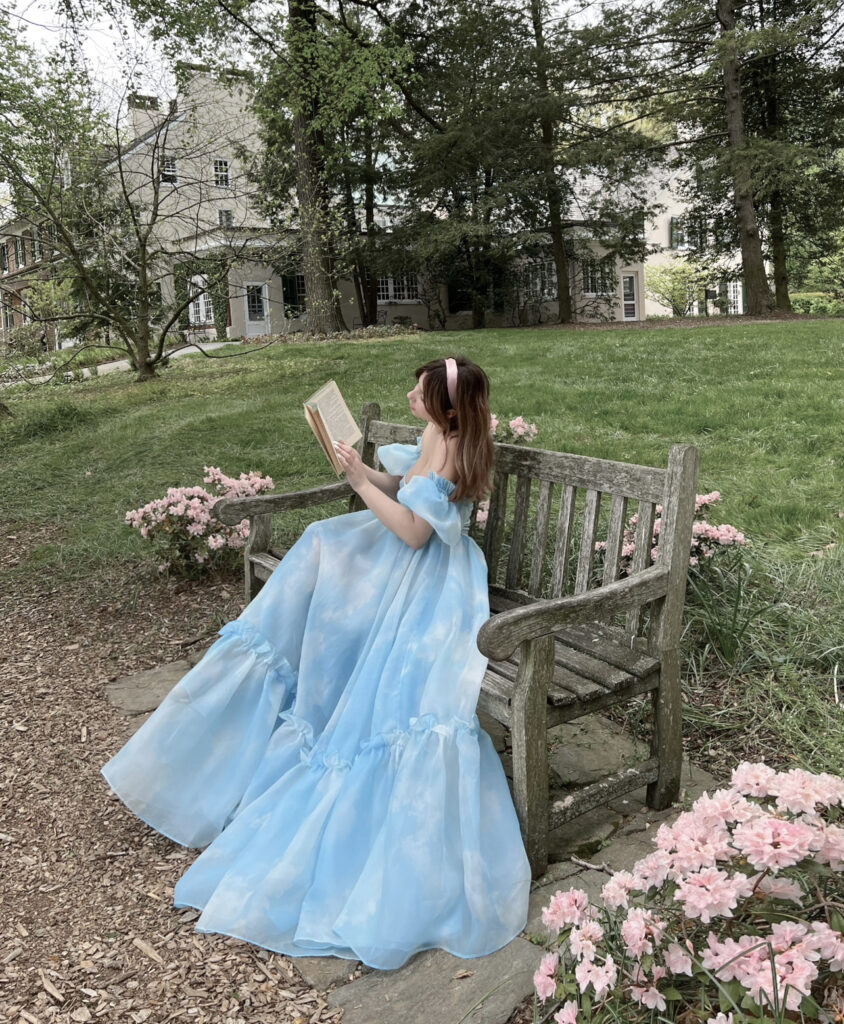 How did you become interested in dressing up in princess dresses, and what drew you to this style?
I started doing social media in the year 2020; if you take a look at my photos and my style back then, you can tell how confused I was.
I tried different looks, trends, & aesthetics but was never happy with myself.
Until I found someone on Instagram who inspired me so much. When I came across her page, I loved her style, I loved how romantic & hyper-feminine her looks were. I knew that I wanted to start expressing myself that way too.
I've always been a girly girl and loved watching princess movies growing up while romanticizing owning a gown one day when I got older.
The brand Selkie was also a big part of my interest in princess dresses. The first gown I ever owned made me feel so beautiful! I knew this was the style I wanted to portray in my photos.
What inspires you the most about embracing a romantic, rustic, and nature-centric lifestyle?
I think that how I'm able to romanticize my lifestyle is really what inspires me.
I live in the countryside & I used to hate it; these past few years, I have slowly learned to overcome that.
I love being surrounded by nature and having that "simple cottage core lifestyle."
I've just learned to embrace where I live and have the opportunity to share that with my audience. It makes me happy.
How do you use your platform as a women's influencer to promote body positivity and self-acceptance?
My page is and will always be a safe place for other younger girls, women and other genders to come and feel inspired.
My goal is to make my page more welcoming for everyone. I try to share my story and help others find their style and feel beautiful!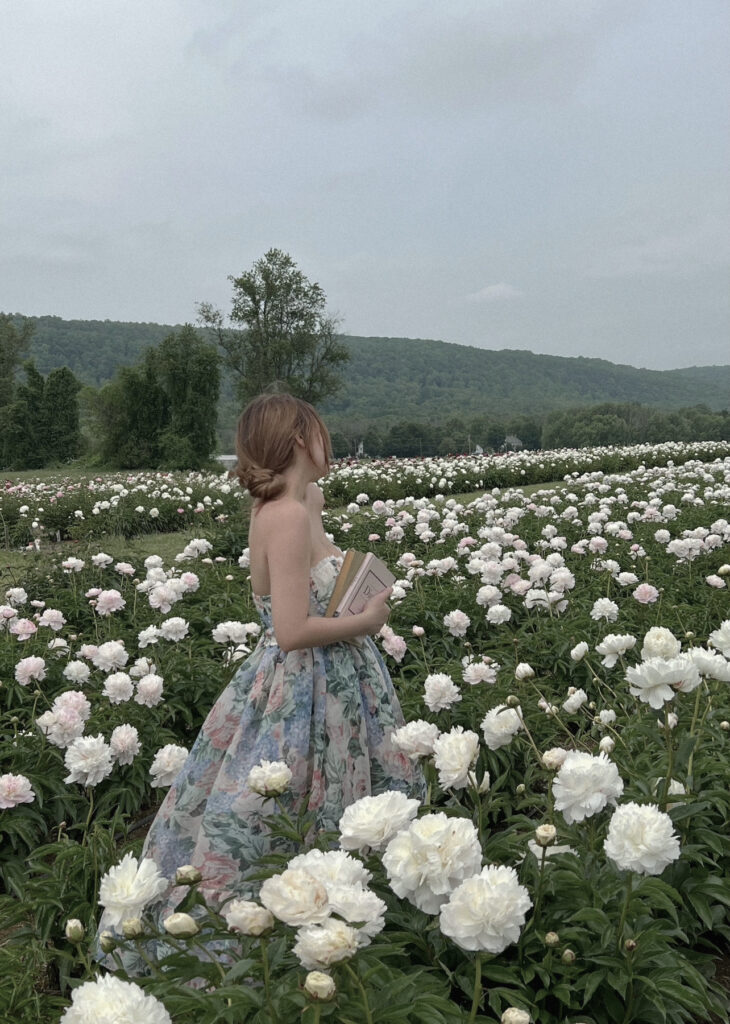 Can you share some of your favourite moments or experiences while dressing up in princess dresses and how they have impacted your content or brand?
One of my most memorable experiences while wearing a princess dress was wearing my first ever selkie gown I owned out in public.
It was a beautiful blue long gown, and I was shooting pics at a popular location with my team!
I was pretty nervous to wear such a big dress with so many people attending that location, but when I got there, there were so many little kids (boys & girls) coming up to me and calling me "princess" and wanting to hug me or take pictures with me.
I felt like an actual Disney princess, and it made me happy that I could make someone's day.
At that moment, I knew I wanted to continue wearing gowns and hope to inspire younger girls & boys!
What challenges have you faced as a woman influencer dressed in princess dresses, and how do you overcome negative stereotypes or misconceptions associated with this self-expression?
I have had many negative experiences throughout my career as a full-time creator.
I've been judged for how I dress when going out to take pictures and also receive my fair share of hate comments from people telling me "what to wear".
I've been through it all these few years, happy times and bad moments.
One of the worst experiences I've ever had was when I took one of my most viral pics on Instagram.
This photo has around 2 million views and over 100,000 likes from just me wearing one of my favourite gowns.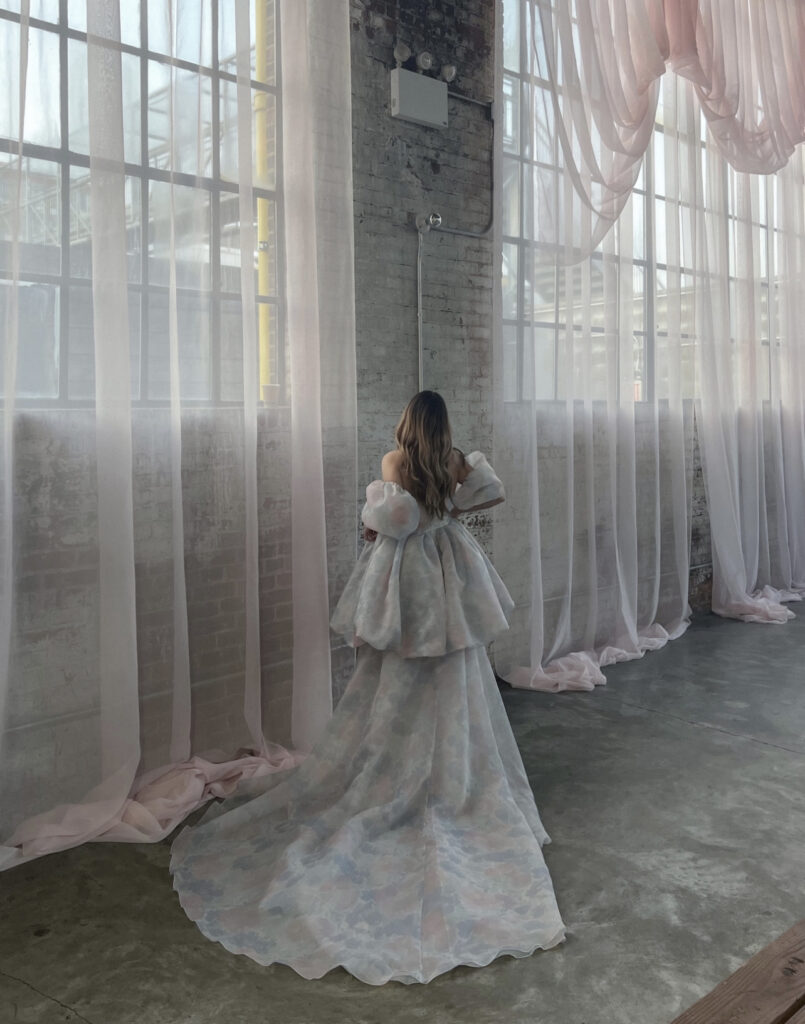 I took that photo in a beautiful peony field last summer in June.
However, the story behind that photo wasn't the best experience! While visiting that location, I was discriminated against for speaking my native language to my photographer. I was accused of not paying for my entrance which I did and had proof of.
I felt distraught and scared that day but decided not to let that get to me and post the photos my team, and I worked so hard to take.
That's when I woke up the next day with thousands of people liking what I did & over 10,000+ followers.
I am thankful that an awful moment turned into one of the best moments in my career, and I feel grateful for that.
However, I overcome the negativity by letting myself feel what I need to feel and ensuring that my feelings are always valid.
Something that I do not do is let people get to me. After I feel what I need to feel, I ignore and move on from people whose negativity I do not need in my life.
I love doing what I do, and I will never let someone else stop me from doing what I love.
How do you approach sustainability and ethical fashion in your content, and what steps do you take to promote conscious consumption and eco-friendly practices in the fashion industry?
Well, I always love going thrifting! It's one of my all-time favourite things to do.
As an influencer, I always encourage my audience to buy second-hand. I'm constantly sharing my thrifting experiences on my stories and love getting feedback from my followers!
Since my aesthetic on my social media platforms & day to day life is very "vintage/Victorian," I always love finding one-of-a-kind pieces to use as props for my photos & even use as decor for my living space.
I also love vintage fashion from the early 1940s-1950s, so I enjoy finding rare clothing and giving them a second home.
However, as a creator, I receive a lot of clothing! The pieces I don't want always are donated to someone who needs them! I also try to work with eco-friendly brands with good causes.
How do you stay authentic to your style while navigating fashion trends and changing industry standards?
I try not to focus too much on "trends". I learned to wear what I wanted when I wanted, depending on how I felt that day.
I wear what I feel most beautiful in!
Can you share some of your most memorable moments or experiences while wearing princess dresses, such as events, collaborations, or special occasions?
This is a tricky question; I've experienced several special moments!
However, the most memorable moment in my career was attending NYFW for a Selkie runway show!
Selkie is a brand I've worked with for a few years now and is one of the reasons why I dress the way I do today.
The founder, Kimberley Gordon, is such an inspiration to me. Seeing her fall 2023 collection last September was indeed a dream come true.
As well as, meeting and seeing other creators come together and wear their favourite gowns was a "pinch me moment", haha. I loved every second of it.
What is your approach to promoting inclusivity and diversity in your content? How do you ensure your fashion is inclusive and accessible to people of all backgrounds, genders, and body types?
As a Latina creator, I try to incorporate as much diversity as I can into my posts & what I create. As I mentioned, I want my page to be a safe place for anyone!
Something I love about my girly style is that many other creators have the same aesthetic. I've met so many amazing other people with different diversities & inclusivity that have the same style as me.
I love seeing different body types, genders & skin colours rocking a cute dress.
I think it's beautiful seeing everyone dress the way they want. It's very inspiring!
Can you share tips or advice for women interested in experimenting with fashion and expressing themselves through unique and unconventional styles?
To those who want to express themselves and wear what they want, do it.
It took me a while to know what I wanted to wear. Growing up, I had many different fazes, but I'm thankful for them because they have led me to what I wear today. It took me years to experiment with fashion until I found my style; I think that if you're starting and you're not quite sure what you wanna wear, I suggest experimenting!
Try different trends, colours, and patterns and see what you feel happiest and most beautiful.
What advice do you have for individuals, especially women, who want to express themselves through fashion but may feel hesitant or judged by societal norms?
I've struggled with this myself for many, many years.
Growing up as a kid who was bullied in school, I've learned not to let people's opinions get in the way of doing things I want to do. However, the process took me years, and there was a lot of healing I had to do, but I did it, and I learned that wearing/doing what I wanted wasn't so scary after all.
I challenge you to step out of your comfort zone and do it. Eventually, it'll become more accessible, and you won't be scared about what other people have to say anymore.
"Life's too short to wear boring clothes!"- Keyliz