Eggs, Camera, Action! 
It's 10 am on a Sunday, and you are about to make the most challenging decision of the day – what shall I have for brunch in dundee ? From eggs and benedicts too, chicken waffles to biscoff pancakes. So many options other than your fried eggs on sourdough, which you will have at home. So many cafes and restaurants to choose from that specialise brunch in their cuisine other than British.
Brunching has become more than a trend over the past ten years. A movement comes and doesn't necessarily stay, but brunching is here to stay. Brunching has been said to be on the rise due to the millennials. However, it goes back further than that; it has European history and was ideal for curing hangovers. Guy Beringer, in 1895, invented brunch. He also mentioned we could have alcoholic drinks alongside brunching. Amen to that.
Brunching involves the kind of food you love. There are no rules when you are brunching. Brunching means eating cereals at a restaurant, having avocado, chorizo and smoked salmon in a unique dish, and ordering several drinks (juices, coffees, smoothies, lemonades, teas, bloody marys, multiple bottles of prosecco) in the order of your wish or one go is excellent. What's not to love?!
Dundee continues to grow as a city of culture of art, and the food industry, no doubt, is increasing at some pace. With many independent cafes offering different varieties of brunch. Dundee City in Scotland caters to brunch for all tastes and needs. As a foodie and a regular café hopper in this city, let's speak about some of the best brunch spots.
Go To Cafes – Recommendation 
Taypark House: Taypark house is a boutique hotel on Perth Road offering various foods with Scottish flavours. I can say I always choose Taypark as offering many vegetarian options. The veggie sausages are made of vegetables and not plant-based meat. This is a "yummy in my tummy " situation for me. The hash browns, though! I think me and my sister fought over how many hash browns we ate. From the professional presentation of the brunch plates to the friendly customer service – Taypark offers a sophisticated brunch to enjoy.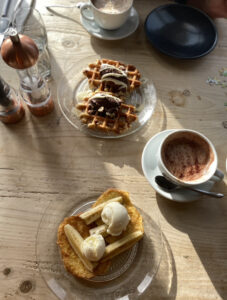 Flame Tree: One of the busiest and lively cafes in the city centre or even Dundee. Australian-owned cafe. Get there early to grab a seat indoors. Although Flame tree cafe is known to connect with uber eats, you can get your very own flame tree brunch at your doorstep. What else can be better than that?
Known for their popular rainbow bagel – remember to order it with cream cheese and salmon. And coconut lemon slice or even a generous portion of soup.
Flame tree café is ideal if you want a lazy brunch with friends with freshly made food.
Tartan Coffee House: Another independent coffee shop and one of my favourites offering quirky décor and a shop you can browse in. With its fast and friendly staff, this café is a must. I usually opt for the halloumi burger. So lovely and trust me, you won't be asking what's for dinner. The apple cinnamon scones are just yum.
Tartan Coffee House is centrally located on Perth Road, and if you are lucky enough to sit outside, catch the buzzing atmosphere. It is lovely on a summer's day.
Pacamara Food and Drink: Pacamara is a cosy café on Perth Road. This is one of the cafes you will find "dundunions" raving about the coffee and the brunch expertise.
Due to the high demand of customers and word of mouth, Pacamara has customers queueing from outside their door, but the wait is well worth it. From toasted brioche with free-range poached eggs, sautéed mushrooms and tarragon. Oh, those hash browns! The vibe is classy with the interior and clientele.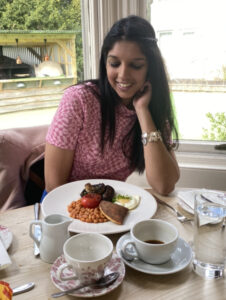 The Parlour Café: A café that offers excellent food at a great value with great service too. And a wonderful breakfast. Parlour café is your favourite neighbourhood café offering seasonal produce. It provides a cheery vibe where students can relax and chill.
So, these are a few of my favourite places I like to brunch and recommend.
It will cost five times more if you go out café hopping than eating out of your fridge – but to me, it is always worth it.
So, here, I have already made your brunch plan. Just book a trip to Dundee and café hop. Enjoy!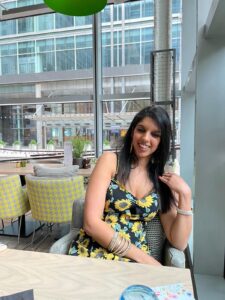 I am Aneesa Chima, and I refer to myself as Scottish with a streak of Indian from the mini city Dundee in Scotland, which is not far from Edinburgh or Glasgow.  I work in admin in the local hospital here in Ninewells.
My main hobby  – if you can call it Hobbie, is cafe hopping. I like to research quirky cafes before heading to a city. I am pretty much a planner. Otherwise, I enjoy socialising and holidays abroad. online and even window shopping.